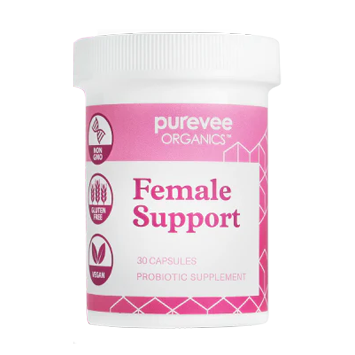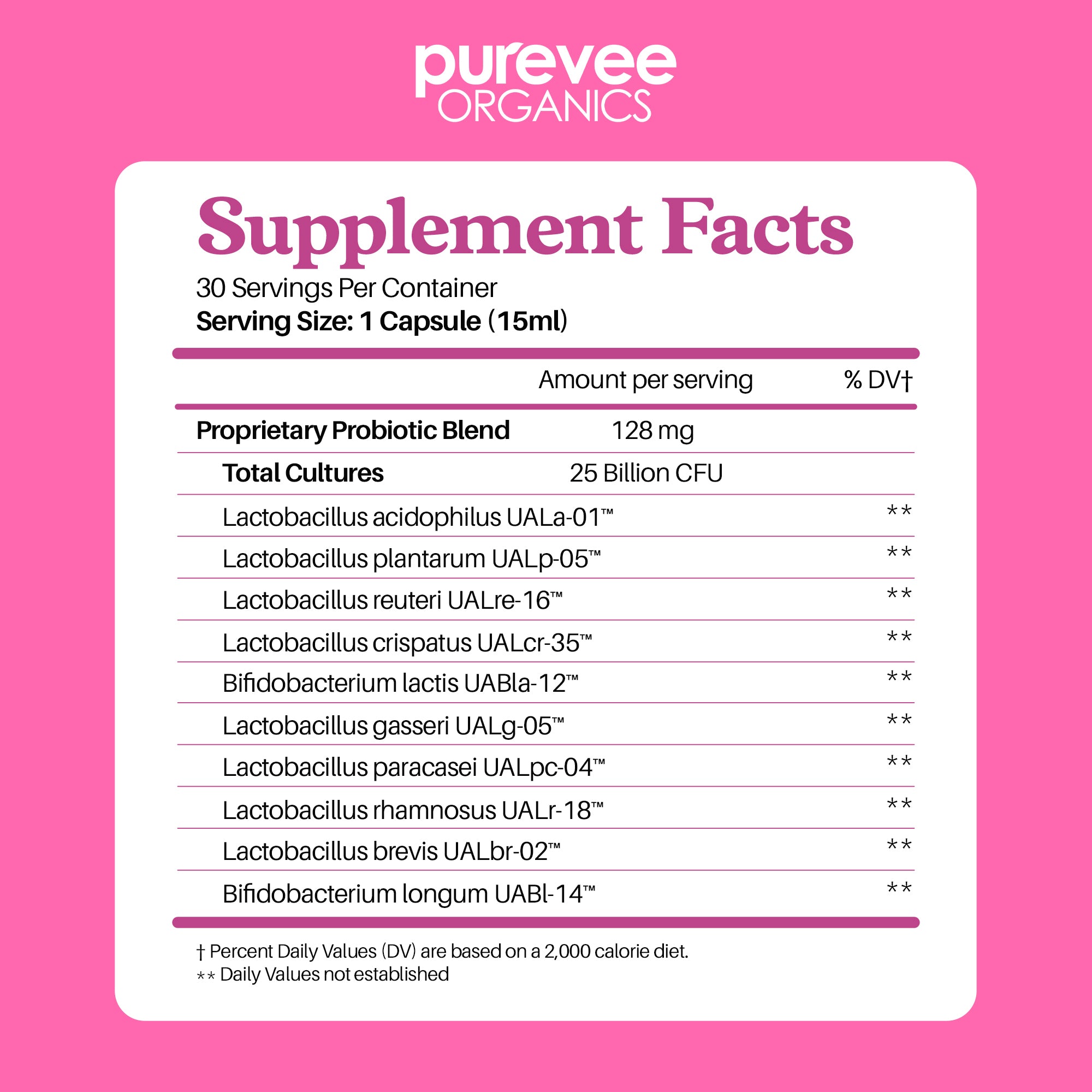 *NEW*
Female Support Probiotics
Whether you're dealing with recurrent UTIs, yeast infections, bacterial vaginosis, or you want to take preventive control of your vaginal health, try adding a vaginal probiotic to your routine. Female Support Probiotics contain two clinically studied strains shown...
read more
RISK-FREE! 30 DAY MONEY BACK GUARANTEE
Lactobacillus acidophilus, Lactobacillus plantarum, Lactobacillus reuteri, Lactobacillus crispatus, Bifidobacterium lactis, Lactobacillus gasseri, Lactobacillus paracasei, Lactobacillus rhamnosus, Lactobacillus brevis, Bifidobacterium longum

Vaginal Discomfort
Take one easy-to-swallow pill in the morning for preventive relief from UTI's, yeast infections, bacterial vaginosis, and excessive gas & bloating.
Life-changing!

Life changing! I've tried so many products and this is the only one that has helped me with my BV.
I am really liking this!
I am really liking this product! I have tried many probiotics, but this one really does what it says it does. So happy to finally find something that works.
It Actually Works!!!

I have lupus and have been having an UTI for over a year. I get antibiotics they work then when I'm done with them the UTI comes back. I've been taking Purevee for a month now and let me tell you I don't have a UTI anymore. To say I love Purevee is an understatement I'm a lifetime client and would highly recommend every female to use this product.
As we age our vaginal microbiome is more susceptible to harmful bacteria, due to a higher pH level. Take control of your vaginal health by adding a vaginal probiotic to your daily routine. Purevee Organics is formulated with proven strains of probiotics, specifically L-Crispatus & L-Rhamnosus to help balance your vaginal microbiome and restore good bacteria.
Additional benefits include:
Improved digestion
Immunity boost
Less fatigue
Gut health support
Why We Love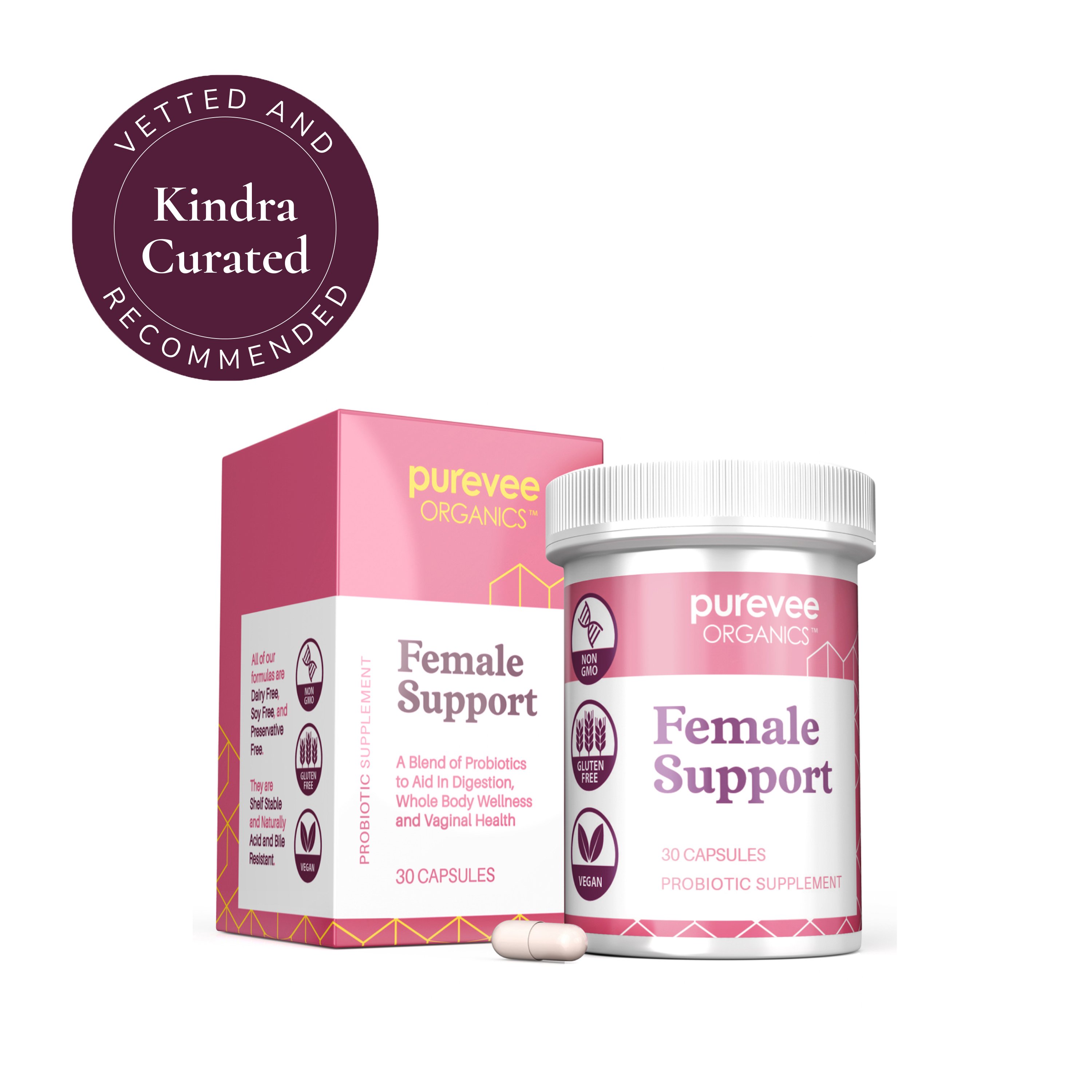 Purevee Organics Probiotics
Purevee Organics Female Support Probiotics are formulated with science-backed ingredients to keep your gut and vagina healthy. Along with two important strains of probiotics to help maintain a healthy vaginal microbiome, these probiotics contain 8 other strains and have 25 billion+ live active cultures to help aid in digestion, protect your urinary tract, and restore good bacteria. Purevee Organics Probiotics are also
Organic
Vegan Friendly
Gluten-Free
Non-GMO
100% Natural
Ask Us Your Questions
We've Got Answers
Kindra: Curated is a collection of our top recommended and vetted menopause solutions that will help make your life easier.
Yes! Purevee Organic products are cruelty free, vegan, gluten free & non-gmo.

Your order will ship within 2 business days and we will notify you via email with tracking information when your order ships. Kindra: Curated products will ship separately and may arrive in different packaging.
Read. Watch. Do.
The Kindra Journal is here to feed your mind with new science, ideas, and stories by and for women.