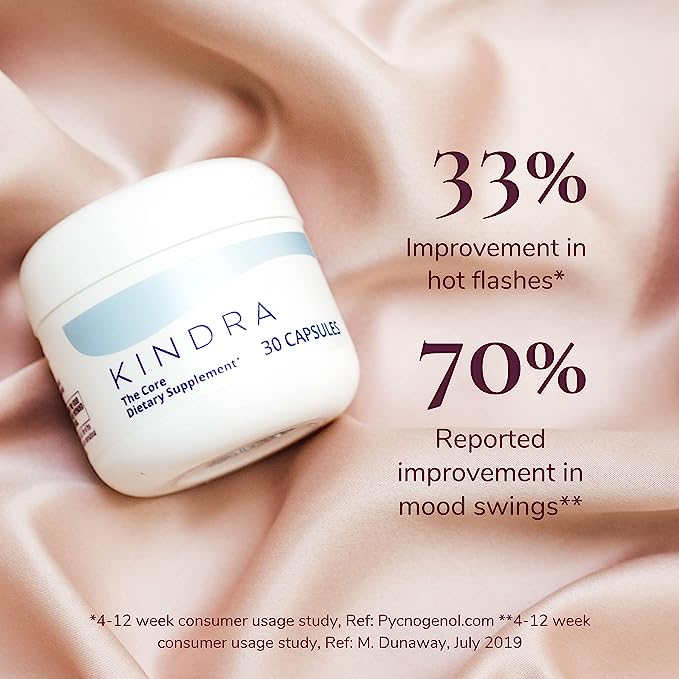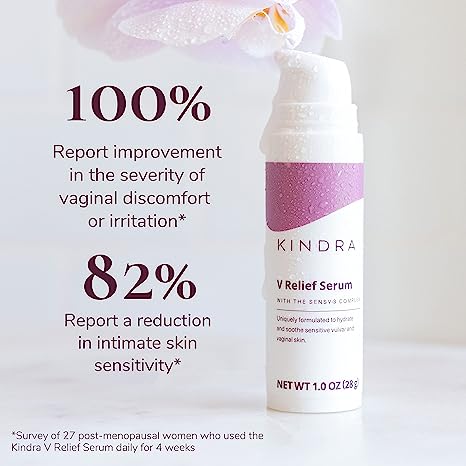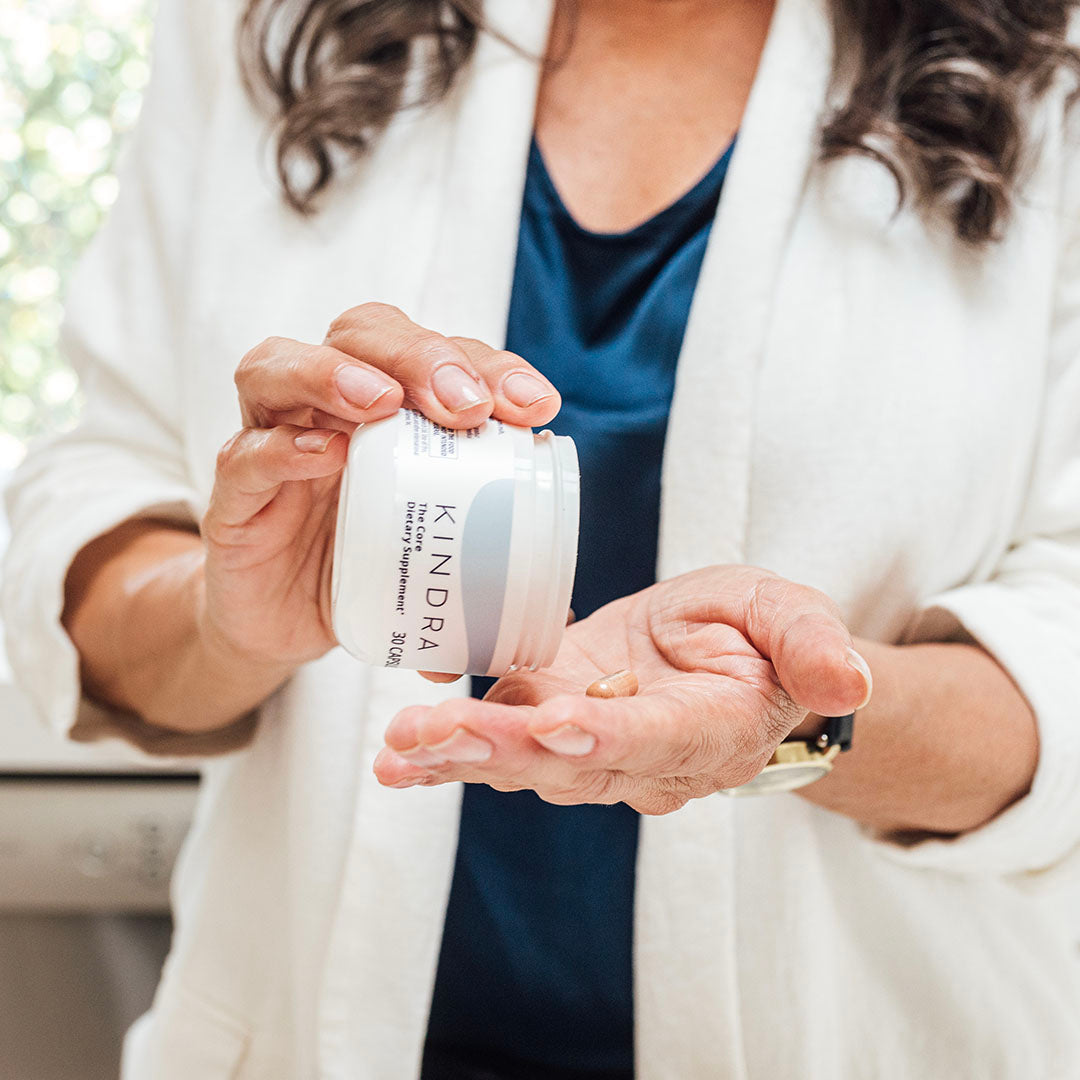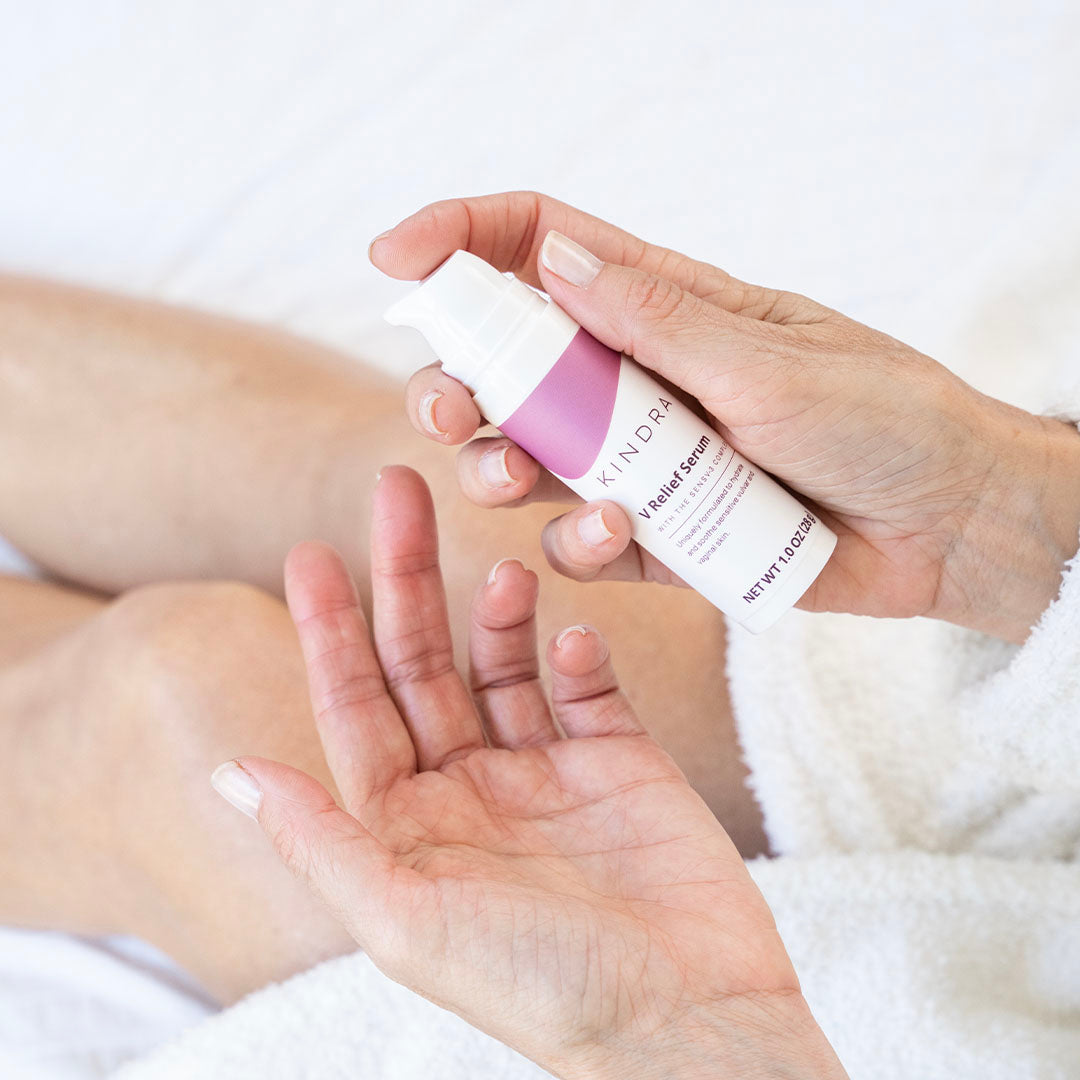 PROACTIVE PERI/MENOPAUSE RELIEF
The Sensitive Essential Bundle
Designed for peri/menopause and beyond, The Sensitive Essential Bundle combines super-antioxidant Pycnogenol® and Ashwagandha in Core and a biomimetic peptide clinically studied to reduce skin sensitivity and reactivity in V Relief Serum to provide sweet relief and... read more
Try it risk-free! 30 day money back guarantee
V Relief Serum: Water, Pentapeptide-59 (and) Hydrogenated Lecithin (and) Butyrospermum Parkii (Shea) Butter (and) Phenethyl Alcohol (and) Ethylhexylglycerin (and) Maltodextrin, Propanediol, Xanthan Gum, Glycerin (and) Water (and) Akebia Quinata Extract, Sodium Benzoate, Potassium Sorbate, Glycerin (and) Hamamelis Virginiana (Witch Hazel) Leaf Extract, Sodium Hyaluronate, Cocos Nucifera (Coconut) Oil, Tocopheryl Acetate (Vitamin E), Lactic Acid
Core: Pycnogenol® (100mg), Sensoril® Ashwagandha (125mg), Other: Hydroxypropyl methylcellulose, rice hull extract, organic rice

Brain Fog

Disrupted Sleeping

Fatigue

Hot Flashes
Irritability

Mood Swings

Night Sweats
Sad or Anxious

Stress

Skin Dryness

Vulvar or Vaginal Dryness

Vulvar or Vaginal Discomfort
SERUM
Cleanse hands and add desired serum amount to finger. Apply serum gently to the external vagina (vulva), where you are feeling dryness and discomfort. If needed, insert approx 1 inch or less into the vaginal opening. Add additional pumps of serum to any sensitive, surrounding area. Cleanse hands.
CORE
One capsule, once a day, with food. For the best results, commit for 60 days to this new routine.
It has made a big difference and relief for me.
- Joan P.

This has really 98% improved my hot flashes. I was on another product that did not help at all.
- Pamela B.

This makes me feel like I used to before menopause. No more itching or scratching at myself. I'm so happy I found this serum.
- Samantha
Clean. Simple. Effective.
Clinically tested
Plant-powered
Formulated without Estrogen and Progesterone
Paraben Free
Non-Greasy
Hypoallergenic
Proven Results
The Sensitive Essential Bundle is wellness that works.
Decrease in hot flashes**
Saw improvement in the severity of vaginal discomfort or irritation*
Report a reduction in intimate skin sensitivity*
*Independent consumer study of 27 post-menopausal women who used the Kindra V Relief Serum daily for 4 weeks, **Source: PANMINERVA MED. 2011; 53 (Suppl. 1 to No. 3): 65-70
Key Ingredients
Tap to Explore the Science
Pycnogenol®
Sensoril® Ashwagandha
SensV-3 Complex
Coconut Oil
SERUM
Water, Pentapeptide-59 (and) Hydrogenated Lecithin (and) Butyrospermum Parkii (Shea) Butter (and) Phenethyl Alcohol (and) Ethylhexylglycerin (and) Maltodextrin, Propanediol, Xanthan Gum, Glycerin (and) Water (and) Akebia Quinata Extract, Sodium Benzoate, Potassium Sorbate, Glycerin (and) Hamamelis Virginiana (Witch Hazel) Leaf Extract, Sodium Hyaluronate, Cocos Nucifera (Coconut) Oil, Tocopheryl Acetate (Vitamin E), Lactic Acid
CORE
Pycnogenol®, Sensoril® Ashwagandha, Hydroxypropyl methylcellulose, rice hull extract, organic rice
Ask Us Your Questions
We've Got Answers
Yes! In line with Kindra's ethos, our products are formulated with ingredients known to be free of estrogen, phytoestrogens, and progesterone. Hormone Replacement Therapy, or treatment with Estrogen, may or may not be the right option for you. We recommend speaking with your medical provider about what options may be best. Not sure how to bring it up with your physician? Email us at hello@ourkindra.com and we can share some guidance!
Wash your hands, and pump serum 1-2 times onto clean, dry fingers. Super dry or sensitive? Start with 1 pump and add more serum, 1 pump at a time. Explore and feel what works for you. Apply serum gently to the external vagina (vulva), where you are feeling dryness and discomfort. If needed, apply serum with finger, no more than 1 inch, into the vaginal opening (introitus) if you experiencing dryness and discomfort there. Wash hands after each use. Reapply daily as often as you need for relief.
Here are a few questions to help categorize what you are experiencing:
Is your vulva and vagina sensitive to the touch?
Do you feel pain, burning, itching, or stinging; especially when applying products, wiping, or intimacy?
Do you feel dry, but mostly discomfort and sensitivity?
Do you feel no dryness, but feel discomfort?
Have you tried other products and felt burning and stinging upon application that did not subside after a few minutes?
If you answered yes to any of these questions, the V Relief Serum is a great choice for you. The serum features the SensV-3 complex, with a peptide specifically developed for sensitive skin, with discomfort related to itching, burning, stinging, and hypersensitivity. Plus, hyaluronic acid provides hydration, and vitamin E supports skin health.
When it comes to intimacy while experiencing vaginal dryness or discomfort, we know it can be a pain…literally. It's important to address symptoms as early as you can, the sooner you can provide moisture, hydration, and soothing relief to your vulvar tissue and the tender vaginal opening, the sooner you can feel comfort. Both the lotion and serum can be options to provide relief, applied daily or nightly for best results over time. The key for choosing the right formula for you, is answering the questions above. Depending on your severity of dryness, sensitivity, burning, itching, or stinging, the lotion or the serum may provide you with the soothing relief and comfort you are seeking during intimacy.
The ingredients in all Kindra products are well-established supplement ingredients. Each of the ingredients and products have been assessed by safety experts.
Take one capsule anytime during the day with food. For best results, daily use for a minimum of 60 days is important. To continue to help manage menopause symptoms, use daily ongoing.
Consult your health provider prior to using these products if you are taking medications, whether prescription or over-the-counter, or other supplements. Some dietary supplements have been found to interact with medications.
Yes, Kindra is Leaping Bunny Certified. This means our products are guaranteed to be 100 percent free of animal testing. Our ingredient suppliers and/or manufacturers have made the same pledge. All Leaping Bunny companies must be open to independent audits, and commitments are renewed on an annual basis. You can learn more on our Leaping Bunny FAQ page
here
.