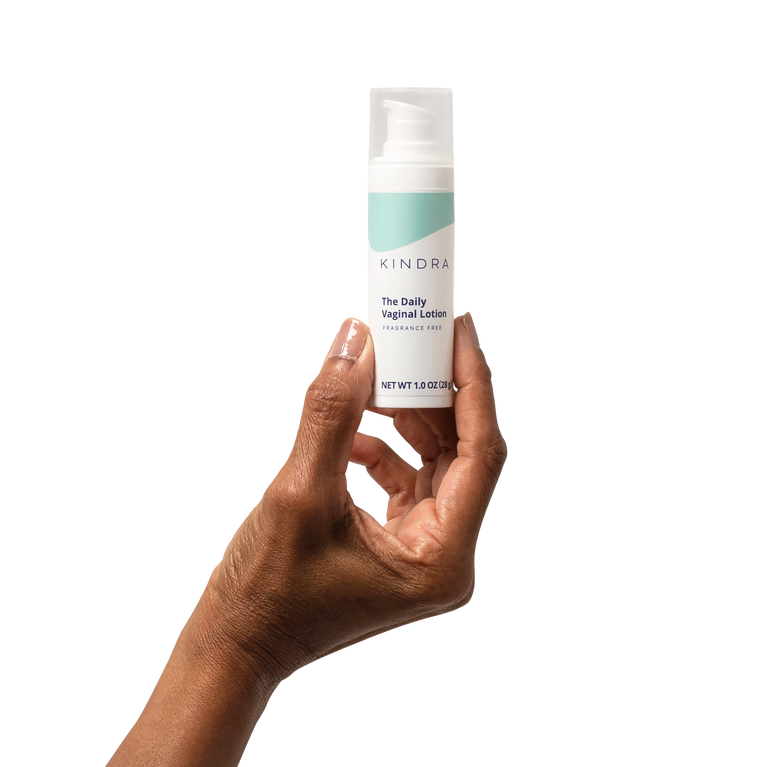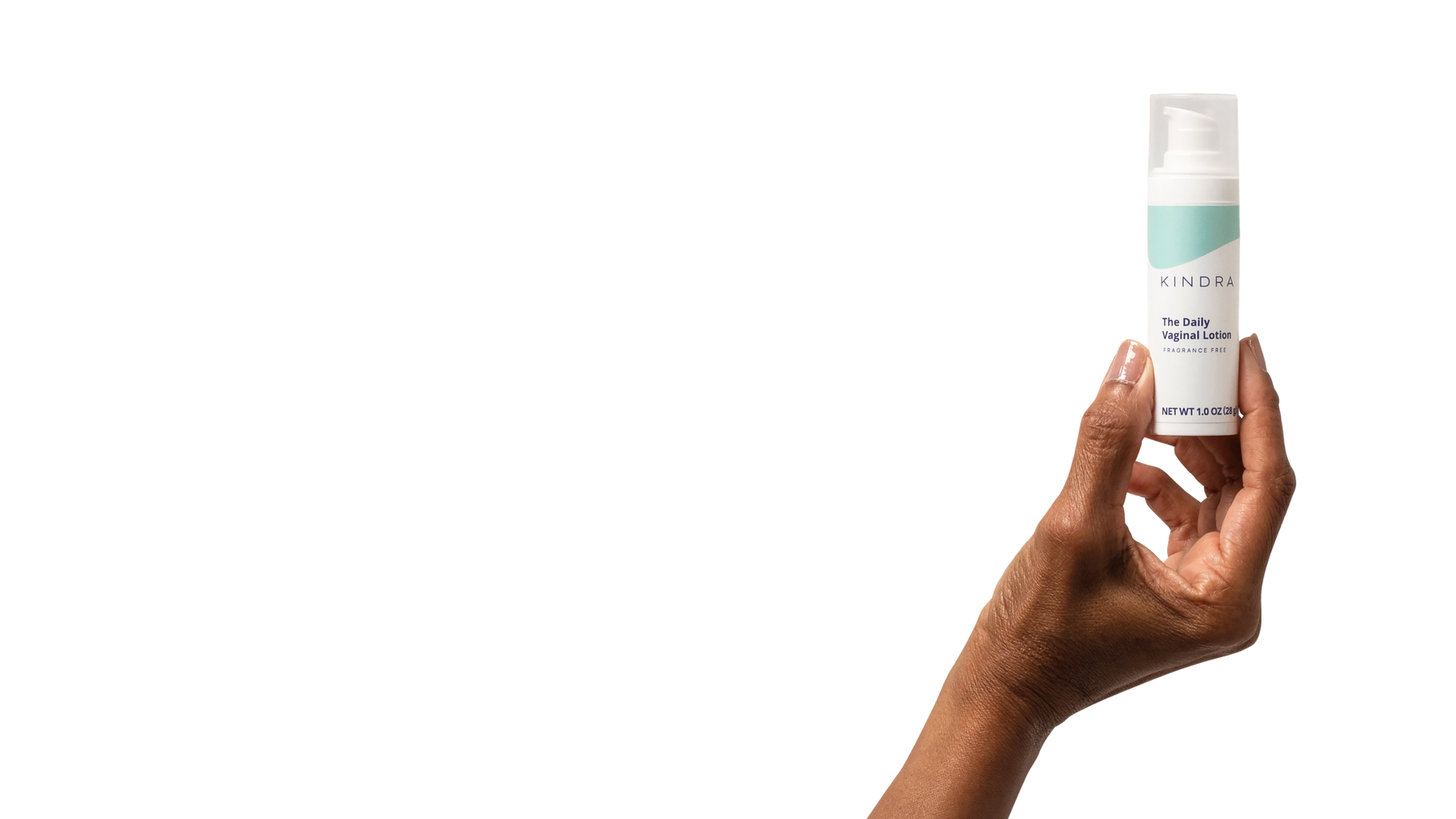 Hydration in Just Days
Our Daily Vaginal Lotion is designed to relieve dryness from peri- and post-menopausal hormonal shifts. Formulated with a blend of skin-critical vitamins, restorative lipids, and moisture-locking humectants, you can look forward to improved appearance, greater moisture, and overall better comfort in just 28 days – all from a pH balanced and hormone, paraben, fragrance, and dye-free solution.
DAY 1
Soothe the Skin
Your first application of Daily Vaginal Lotion provides immediate benefits: moisture and hydration, greater comfort, and an overall soothing feel. You may notice a slight tingling or burning with sensitive skin that should subside in a few minutes.
95% of women reported intimate area feeling moisturized and hydrated
88% of women reported an improvement in the feeling of vaginal dryness
DAY 3
Get Acclimated
By day 3, the lotion is working to support your skin moisture barrier and improve overall dryness. You may notice a slight burning sensation. Don't worry – the lotions expert formula is working to fuel your natural lubrication.
88% of women reported feeling naturally lubricated
80% of women reported feeling more comfortable
DAY 14
Improve Your Intimacy
As vaginal dryness is rapidly improving, women also reported feeling less pain during sex. If a burning sensation persists at this time, we recommend pausing use and consulting your doctor.
91% of women reported an improvement in the feeling of pain during sex
DAY 28
Restored and Rejuvenated
In less than a month of daily use, most women report no vaginal dryness and no pain during sex. We recommend continual use daily for sustained benefits.
73% of women reported no symptoms regarding the feeling of vaginal dryness
64% of women reported no symptoms regarding the feeling of pain during sex
I am 63, I had menopause at 50. It's been 13 years of trying to find the right solution for the dryness. Nothing seemed to work. Until you came along. Even my sex life has been better! No more pain! The slight sting went away after 2 applications and I am highly sensitive to creams and lotions
I will say that it took about a week for the slight stinging and burning to go away. Now, I am very happy with the relief of all discomfort so far.
As people expressed in the reviews it did sting the first two applications but not so much anymore. Honestly, the test for me will be whether or not the pain lessens during sexual intercourse. I will come back and update my review after a month of daily application.
How To Apply
1
Apply The Lotion
Wash your hands and pump desired amount onto a clean, dry finger. 2 to 4 pumps usually does the trick. Super dry or sensitive? Start with 1 pump and build up to 2+ over 7 to 14 days. Explore and feel what works for your body.
2
Insert up to One Inch
Insert finger only 1 inch or less into the vaginal opening known as the introitus, if you are experiencing discomfort there.
3
Apply Outside as Needed
Gently apply the lotion to the external vaginal area known as the vulva. Add extra pumps if needed.
4
Wash & Reapply as Needed
Wash your hands after each use. Reapply daily or as often as you need.
BESTSELLER WITH PROVEN RESULTS
This bestselling cult favorite drives real results where and when you need it most, with 95% of women reporting meaningful improvements with as little as two uses. Enjoy our beloved formula, which features a blend of feather-light, ultra-hydrating extracts, including coconut oil, sunflower seed oil, safflower seed oil, and moisture-loving humectants, with skin-critical vitamins E and B3 (niacinamide) to support skin-moisture barrier healing. Use this lotion daily and see dramatic improvements to dryness in your Lady V. Best yet, it's risk-free to try; return your lotion within 30 days if you're not seeing results.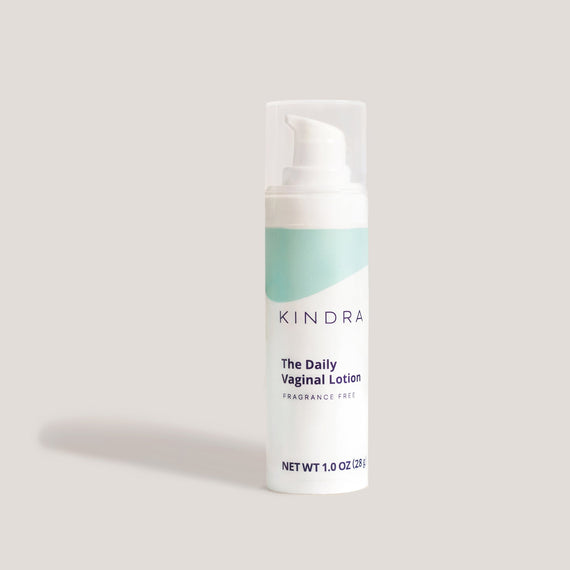 Ready to Talk to Your Doctor?
Here's an easy, informative guide on our lotion and applicator for you to share with your doctor.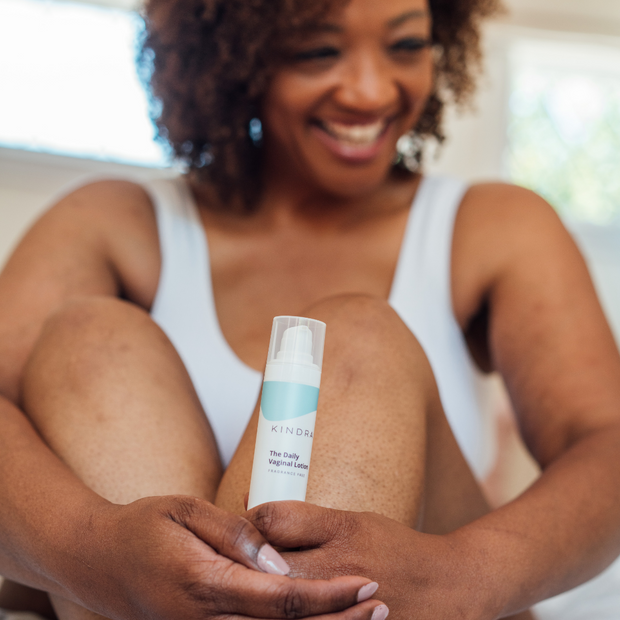 Ask Us Your Questions
Some women might experience a slight stinging/tingling sensation upon application due to skin dryness and skin sensitivity. Don't worry – the lotion is formulated to support the skin moisture barrier and will continue to improve your dryness and sensitivity over time. If continued skin irritation or sensitivity occurs, reduce the amount of lotion used or discontinue use and consult with your doctor if irritation continues.
Apply daily, in the morning, evening or as needed throughout the day. Experiment and learn what works best for you and your body.
A 'standard' application of Kindra Daily Vaginal Lotion should be between 1-4 pumps per day. The amount you require can change on a seasonal or even daily basis and will depend on your level of dryness. The key is daily use so that you maintain continuous hydration. Our most popular option is for those with a moderate level of dryness, for which we recommend 2-3 pumps per day. For those needing extra moisture, we recommend 3-4 pumps per day; and for intimate skin that is occasionally dry, we recommend 1-2 pumps per day.
The Kindra Daily Vaginal Lotion is free of hormones, including estrogen and progesterone.