Why Kindra?
In a blind consumer study, we put Kindra to the test against the top 5 best-selling vaginal dryness products at the drug store. Kindra received the highest ratings. Discover why thousands of women are Kindra customers.
What Sets Us Apart
Kindra's Daily Vaginal Lotion has been developed by women, for women, to relieve the symptoms of vaginal dryness due to hormonal shifts in the body, often experienced by women in peri/post menopause. 
Real Results
In consumer testing of peri and post-menipausal women experiencing vaginal dryness
of women reported intimate area feeling moisturized and/or hydrated at Day 1
of women reported feeling naturally lubricated at Day 3
of women reported an improvement in the feeling of pain during sex at Day 14
"I feel like I got my life back. I'm 52 and thought I'd have to live the rest of my life uncomfortable from vaginal dryness. I feel SO MUCH BETTER!! Thank you!!"
After trying (and discontinuing) a prescription estrogen cream due to side effects, I was resigned to being physically miserable the rest of my life. But I took a chance on Kindra and was so glad I did! It worked within two days and now I feel so comfortable and relieved all the time. I can go back to enjoying the perks of menopause!
"This has been a life changing product for me. Intimacy is back to what it was when I was 10-20 years younger!"
MODERATE DRYNESS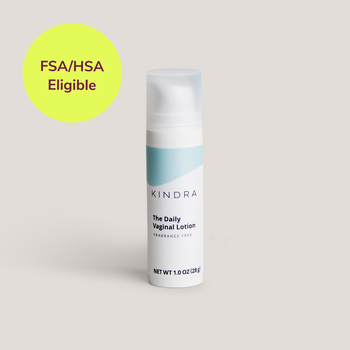 This beloved formula soothes mild to moderate vaginal dryness with long-lasting hydration.
From $54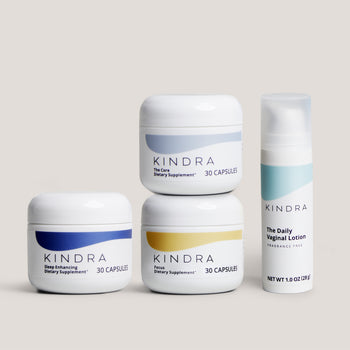 Our Full Regimen works as a system to holistically support your body's changing needs.
Subscribe & Save | $170 $132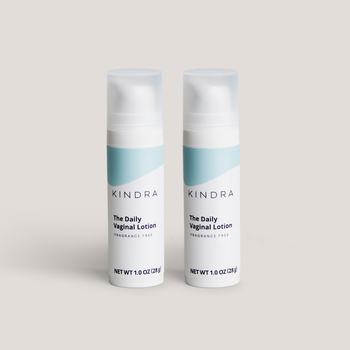 Stock up and save when you order two bottles of our best-selling community fave.
From $108