Menopause Energy Bars 12 Count
Created for menopausal women to help manage sugar cravings, the 'meno middle," and energy levels during the challenging stages of menopause.
Benefits: Organic Maca known to balance hormones an... read more
RISK-FREE! 30 DAY MONEY BACK GUARANTEE
Almonds, Chicory Root Fiber, Dates, Pea Protein, Ground Flaxseed, Organic Maca Powder, Sunflower Lecithin, MCT Oil (From Coconut), Vanilla Extract, Natural Flavors, Sea Salt, Spinach, Kale.

Weight Gain
I love these bars! I carry them in my purse, leave them in my car for moments when I need a burst of energy to get me to my next meal. These bars are guiltless components of my self-care.
Soooo good!!! Love having a new flavor to take my nutrition on the go!
Just found my new morning workout positive-energy bar.
At only 160 calories and 0g of added sugar, the Toasted Vanilla Almond bars are packed with filling fiber and healthy fats, and made with the best natural ingredients, making them a perfect snack for on the go, an afternoon boost, or after a workout.
Why We Love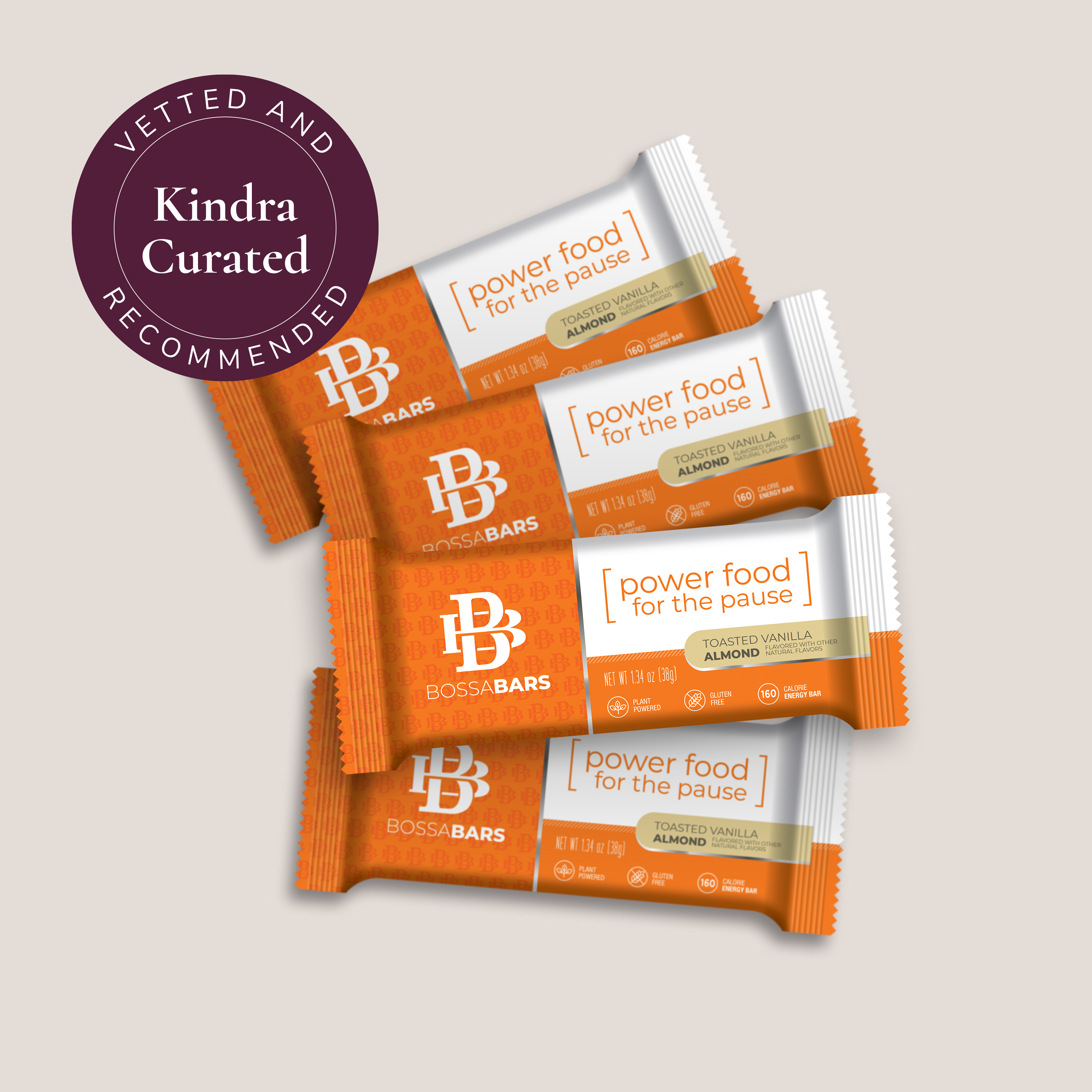 Menopause Energy Bar
Named a 2022 Oprah Daily Best Menopause Product, Bossa Bars are made with organic Maca, known to balance hormones and blood sugar, 29% of daily fiber needs to keep you satisfied, and 8 grams of plant-based protein to maintain muscle and support metabolism, making them a perfect snack for on the go, an afternoon boost, or after a workout.
Learn more about Boss Bars here.
Ask Us Your Questions
We've Got Answers
Kindra: Curated is a collection of our top recommended and vetted menopause solutions that will help make your life easier.
Your order will ship within 2 business days and we will notify you via email with tracking information when your order ships. Kindra: Curated products will ship separately and may arrive in different packaging.
Read. Watch. Do.
The Kindra Journal is here to feed your mind with new science, ideas, and stories by and for women.