7 Reasons to Try The Kindra Self-Care Routine
Use code GENX20 at checkout for 20% off your order
1. Supercharged with plants and hormone-free
Our clinically-studied, water-based vaginal lotion boasts niacinamide, helping to rebuild the compromised skin moisture barrier through the power of nourishing ceramides. Consider Pycnogenol, a potent plant extract found in each of Kindra's daily supplements. Also known as French Maritime pine bark (Pinus pinaster) extract. It's renowned for its positive effects on sleep, mental clarity, hot flashes, and night sweats.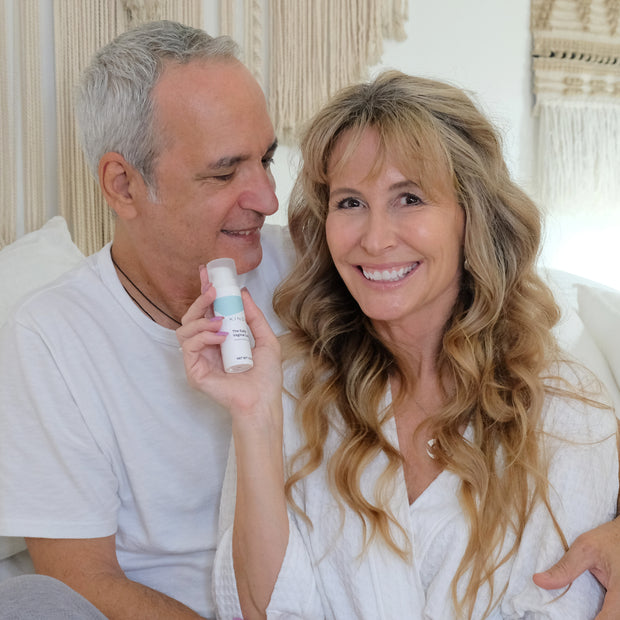 2. Doctor-approved and clinically proven to keep you ultra-hydrated
Our team of world-renowned researchers put our vaginal lotion and core supplement to the test. 95% report intimate their area feeling moisturized and less dry after one day. 93% rave about long-lasting hydration. 70% reported significant improvements in mood swings, brain fog, and hot flashes with the core supplement. And 80% reported improvement in discomfort during intimacy. No gimmicks. No BS. Just results.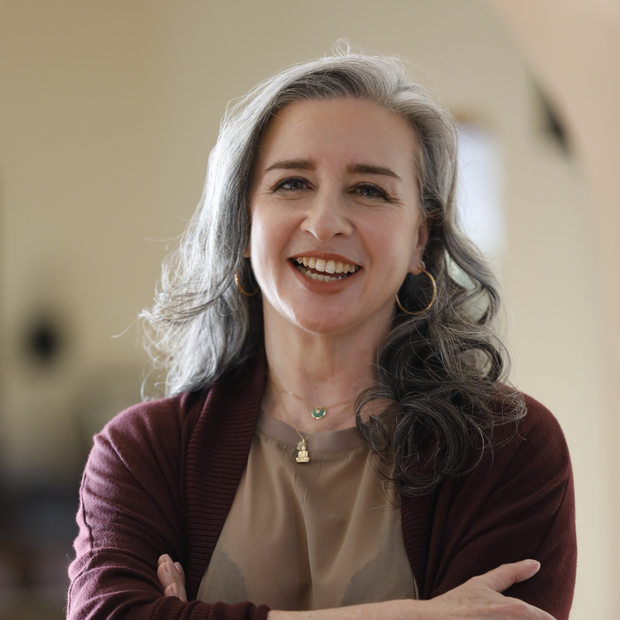 3. Less pain, more intimacy
73% of women reported no vaginal dryness and 64% of women reported no pain during sex after 28 days of use. These bestselling cult favorites drive real results where and when you need it most.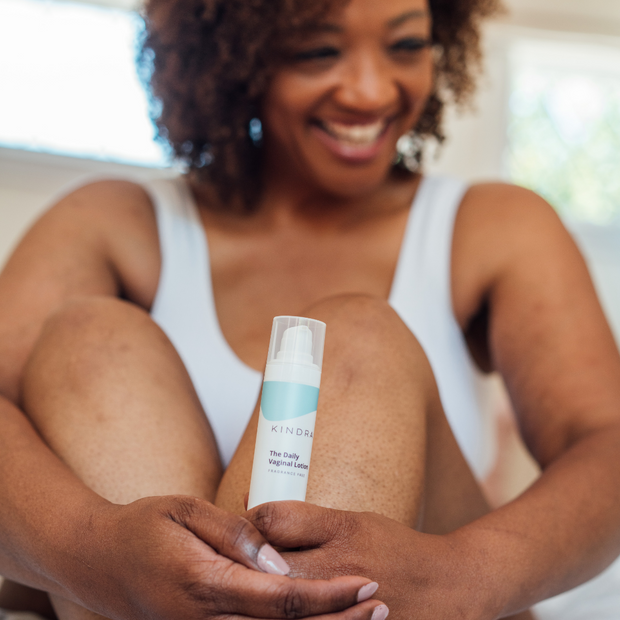 4. The perfect self-care routine to unwind
Dramatically improve vaginal dryness and hydrate your entire body when you pair this lotion with Kindra's Soothe Bath Soak. Soothe's formula includes a gentle yet effective clinically-studied peptide shown to provide comfort to sensitive skin and sleep-supporting chamomile proven to help calm the skin and mind. This self-care routine will provide sweet relief, leaving you in long-lasting comfort.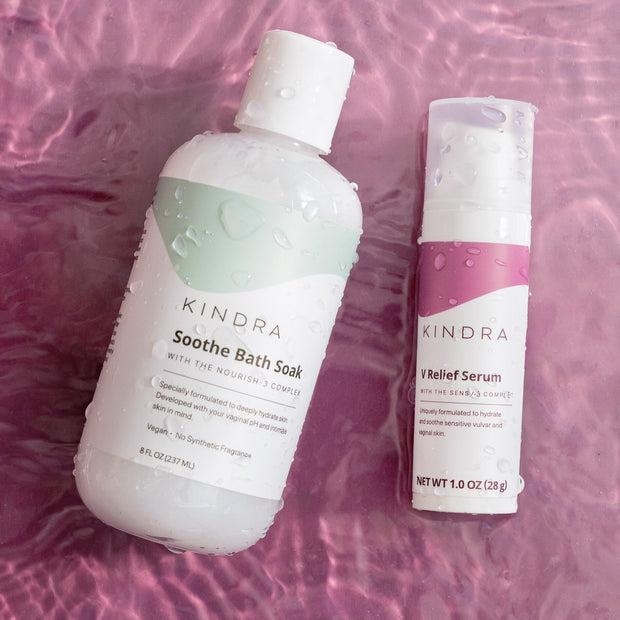 5. Committed to clean, quality ingredients
Kindra spent years testing and developing formulas for their products that guarantee safe, clinically-effective menopause symptom relief, do not rely on estrogen to supply relief, and is always sourced from the best regions of the world with facilities that meet top clinical standards.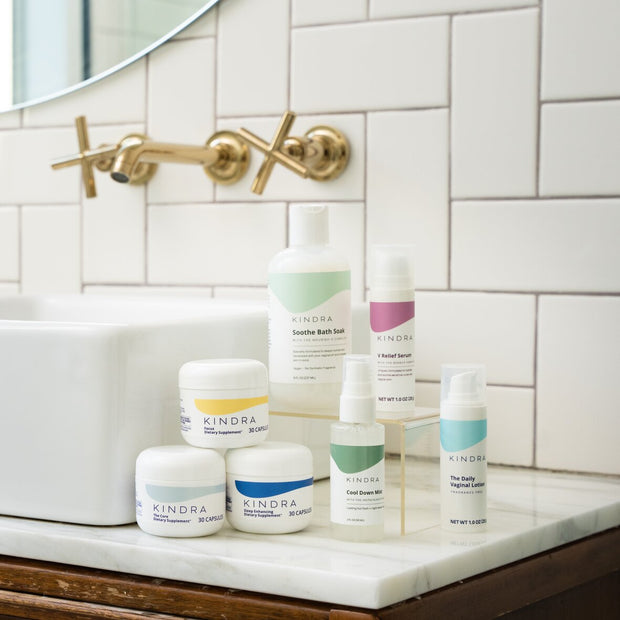 6. Your body and mind will thank you
The Daily Vaginal Lotion and Soothe Bath Soak provide long-lasting hydration and helps alleviate stress quickly. The Core Supplement speaks to eight of the most common menopause symptoms: dry skin, hot flashes, fatigue, mood swings, night sweats, brain fog, disrupted sleep, and stress. When you combine them all, your body will feel the ultimate menopause relief treatment and never want to go back!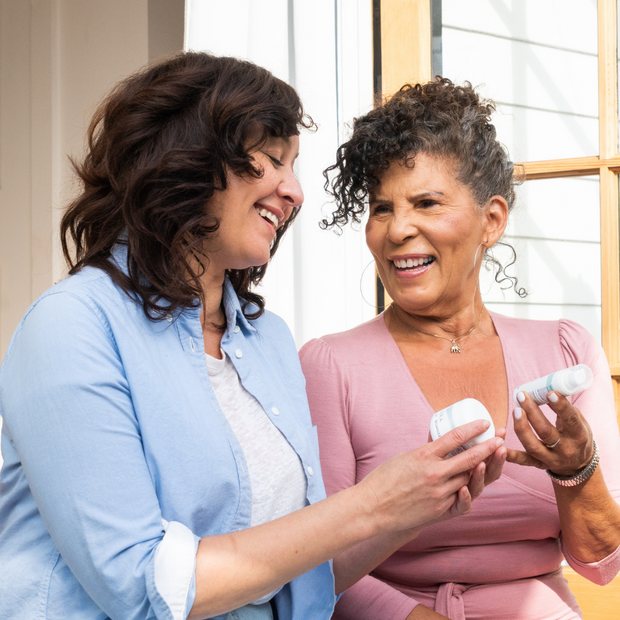 7. No more awkward pharmacy visits
Say goodbye to those uncomfortable pharmacy trips. Kindra delivers fast relief discreetly to your door with free shipping on every order. Not feeling results? No problem. Receive a full refund on any order within 30 days of delivery.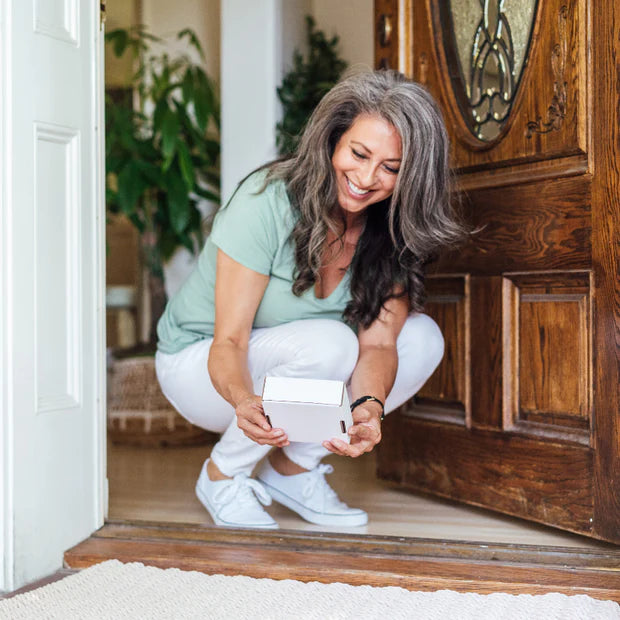 "I never thought I could have my intimacy back but I did. What a pleasure to have some pleasure again."
Ready for relief?
Use code GENX20 at checkout for 20% off your order
The maximum relief for your vulvar & vaginal dryness and discomfort.
Subscribe & Save | $79 $60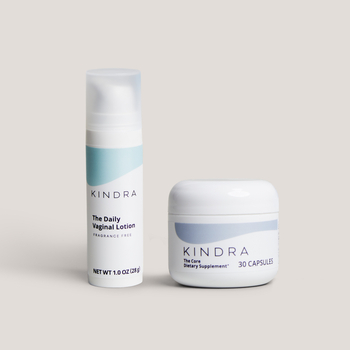 Our best-selling combination designed to boost hydration inside and out.
Subscribe & Save | $98 $75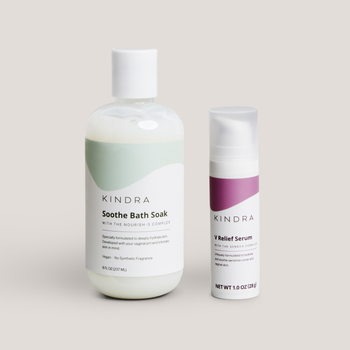 The maximum relief for your vulvar & vaginal discomfort or sensitivity.
Subscribe & Save | $79 $60