A Better Night's Sleep Is Around the Corner
No night sweats, no midnight wake ups, and finally a happier, healthier you
1. Un-Matched Formula Tailored for Midlife Sleep
Kindra's Sleep Supplement provides 360 relief, as the Ashwagandha helps calm your mind to actually fall asleep, melatonin to help you stay asleep, and Pycnogenol to decrease night sweats so you can rest easy. Other sleep supplements on the market aren't uniquely tailored to support the specific sleep issues that arise during midlife.
2. Science-Backed & Clinically-Proven
Our team of world-renowned researchers put our Sleep Supplement to the test. No gimmicks. No BS. Just results.
Decrease in sleeplessness
3. Power Up With Pycnogenol
Pycnogenol is a natural antioxidant that is perfect for your menopause and perimenopause routine. Just 100mg twice a day has shown to:
improve sleep patterns by 30%
reduce tiredness and headaches by 23%
improve memory and concentration by 29%
Get even more benefits at this 100mg dosage when you shop our Sweet Dreams Duo - featuring our Sleep Supplement coupled with our best-selling Core Supplement.
4. Personalized Regimen Tailored to Your Unique Needs
No two bodies menopause the same. Take the expertly-curated Kindra quiz to help you prepare for, manage, and embrace your body's natural hormonal shifts. We'll tell you exactly which Kindra products are right for you, right now. Answers and clarity in just 5 minutes.
5. Easy Replenishment
Subscribe to Kindra for monthly Sleep Supplement delivery, or tell us what schedule works for you. No commitments. Easy-to-cancel subscription. Never run out of your self-care essentials.
"Kindra's Sleep Supplement o is a lifesaver. Took about a week to fully do the job but now I sleep like a baby! I definitely would recommend this product for insomniacs like me."
"The Sweet Dreams Duo helps me fall asleep and stay asleep. Plus, I'm not waking up with my sheets drenched from night sweats! I feel rested and refreshed when I wake up in the morning. I'm relieved!"
"I was skeptical at first but willing to try anything natural to get some sleep (especially after waking up 8-10 times in a night). I'm happy to say that I can actually sleep throughout the night!!"
Super-antioxidants Pycnogenol® and Ashwagandha potently power this bundle.
Subscribe & Save | $84 $65
Our body-balancing night supplement promotes sleep and relaxation so you can rest easy.
From $44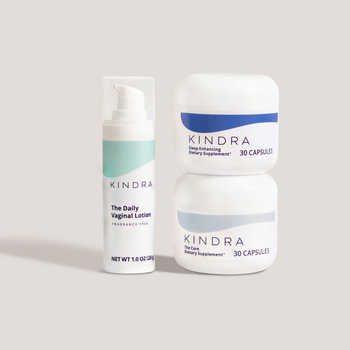 These formulas work together to reduce muscle aches, support glucose levels, give your brain some extra TLC, and boost hydration inside and out.
Subscribe & Save | $133 $102