Full Spectrum Recovery CBD Balm
A full spectrum cannabis extract balm containing a ratio of CBD 4:1 CBG, beneficial minor cannabinoids, and terpenes complemented with an all-natural blend of soothing and nourishing ingredients.
Organic CBD and CBG extracts combined with St John's Wort, Peppermint a... read more
RISK-FREE! 30 DAY MONEY BACK GUARANTEE
Full spectrum CBD, full spectrum CBG + CBGA, Camphor, Shea Butter, Beeswax, Cajeput Oil, St. John's Wort Oil, Peppermint Oil, Corn Mint Oil, Vitamin E.

Joint Pain
Dry Skin
Apply topically to the affected area.
CBD Balm

Love it. Have been dealing with too many medical issues which include pain. After applying the balm my pain goes away.
- Jane M.
This really helps!
I had my right knee replaced 7 months ago. Ive been using the CBD balm for the past few months and it really does work in reducing my discomfort. I rub it into my incision line and behind my knee each night as I go to sleep. This really helps!
- Lise D.
This stuff is heaven sent!
I have recommended this product to all my friends and they are all 100 percent satisfied. I my self have neuropathy and I rub this on my feet once a day and I feel no pain, I tried many CBD creams before but nothing worked like this. Btw I order by 2 at a time to make sure I don't run out !!
- Martha R.
Analysis shows that CBD, neroli, and bergamot can nourish the skin by:
Enabling cell regeneration
Reduce the effects of stress
Sooth sensory nerves which in turn reduces inflammation and pain.
Full-spectrum extracts also have been shown to regulate wound healing. Perfect for when you are on the mend, seeking healing treatment, or when you just need an elevated fragrance to lift your spirits.
Why We Love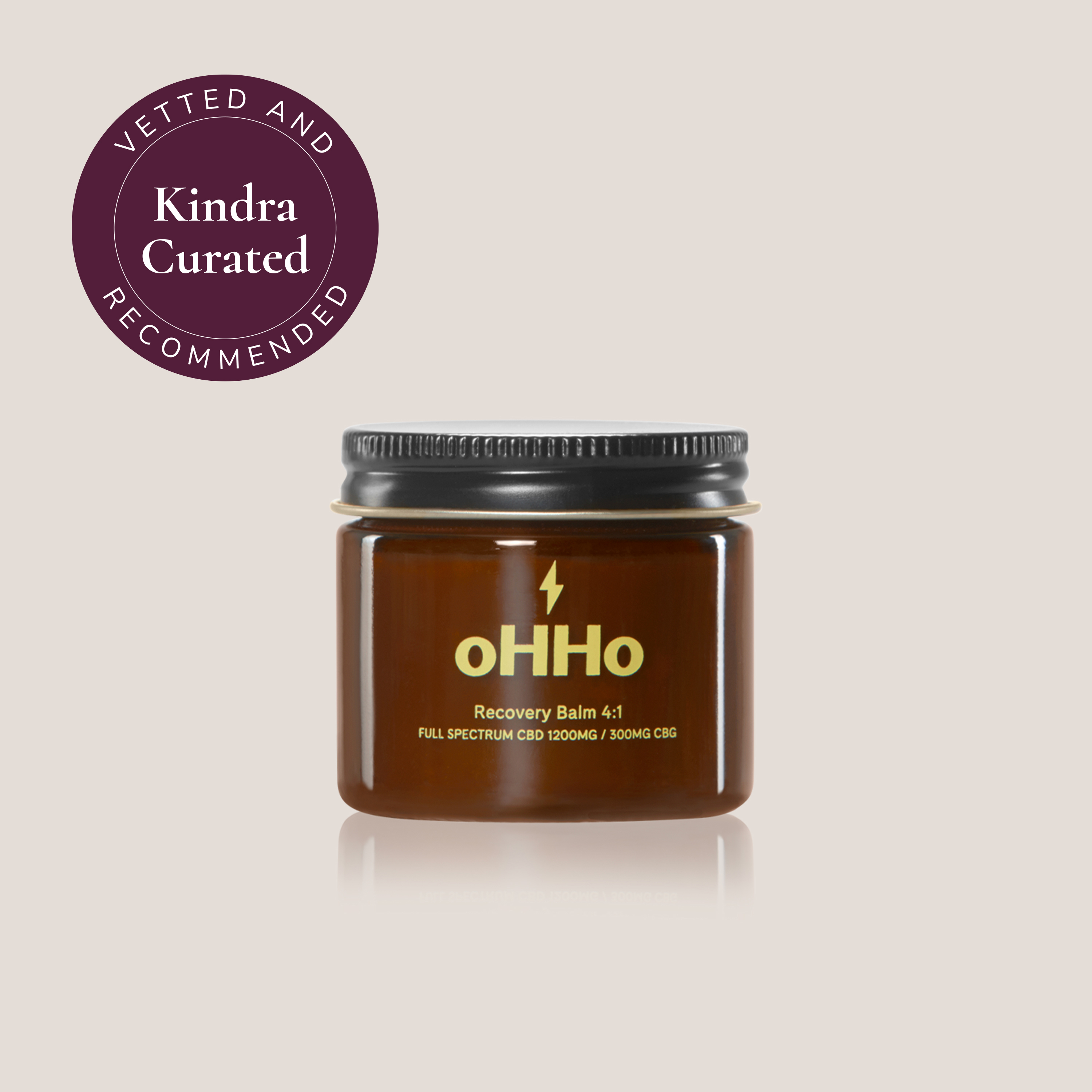 oHHo Recovery Balm
Recovery Balm features warming and cooling ingredients that complement the CBD to help you recover from injury or pain. Perfect for after working out or easing sore muscles, the addition of CBG also provides potent anti-inflammatory and antibacterial properties that make it an incredibly effective healing balm.
Recovery Balm also features 4x the amount CBD found in comparable products and is:
Cruelty-Free
3rd Party Tested
Organically Grown
Learn more about Recovery Balm here.
Ask Us Your Questions
We've Got Answers
Kindra: Curated is a collection of our top recommended and vetted menopause solutions that will help make your life easier.
Potent anti-inflammatory and regulatory properties. Other ingredients included may help with reducing pain and inflammation, stimulating blood flow, soothing irritated or itchy skin, and softening skin.
Apply topically to affected area. Analysis shows that CBD+CBG can nourish the skin by enabling cell regeneration and the soothing of sensory nerves which in turn reduces inflammation and pain. Full spectrum extracts also have been shown to regulate wound healing.
CBD Strength: 1200mg/ 2oz, CBG Strength: 300mg/ 2oz
Recovery Balm is perfect for pesky pain, soothing injuries, or after a workout to help with soreness.
Your order will ship within 2 business days and we will notify you via email with tracking information when your order ships. Kindra: Curated products will ship separately and may arrive in different packaging.
Read. Watch. Do.
The Kindra Journal is here to feed your mind with new science, ideas, and stories by and for women.